Happy Rhino Lager
(5,0%, December 2018)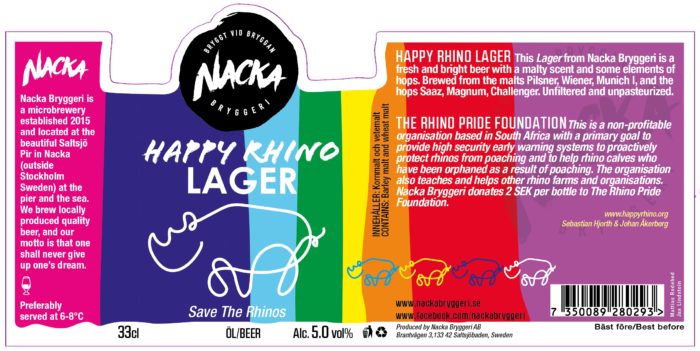 HAPPY RHINO LAGER This Lager from Nacka Bryggeri is a fresh and bright beer  with a malty scent and some elements of hops. Brewed from the malts Pilsner, wiener, Munich I, and the hops Saaz, Magnum, Challenger. Unfilltered and unpasteurized.
By purchasing this product you automatically contribute to the Rhino Pride Foundation, a non-profitable organisation based in South Africa. A donation of 2 SEK per bottle is made to the cause. Save the rhinos one beer at a time!
The organisation's primary goal is to provide high security early warning systems to proactively protect rhinos from poaching and rhino calves who have been orphaned as a result of poaching. In addition, a part of the Rhino Pride Foundation's
work is to teach and help other rhino farms and organisations about security and to keep rhinos safe from poachers.
Se även https://www.facebook.com/happyrhino.org